Congratulations to Alta View Elementary 2022 Teacher of the Year: 
Mrs. Lucie Chamberlain is the Diagnostic Kindergarten Teacher.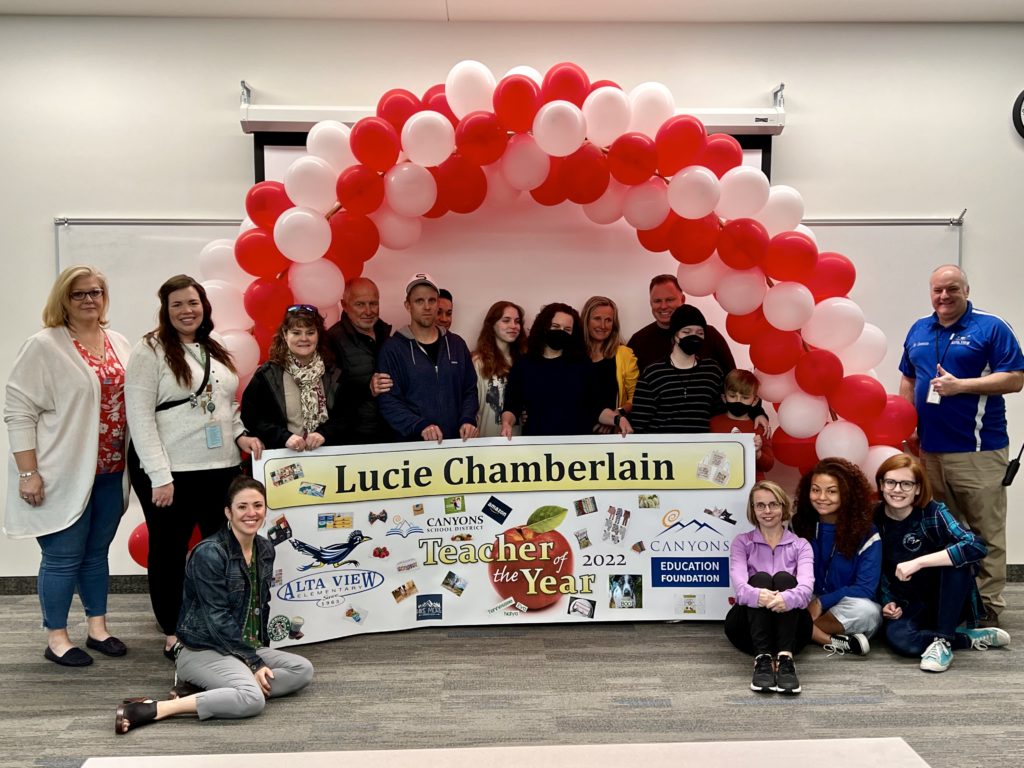 Mrs. Chamberlain has the energy and the love as if she is part of a Sesame Street show. I have volunteered in her classroom and I see the effort, the energy and the love she gives every minute to the kids. The way that she can individualize the teaching for each of the kids is impressive, and something that not everyone can do. I can't imagine a better special education teacher for my kid.
-Parent
Mrs. Chamberlain is an exceptional teacher, she is very sweet with the children, my son has learned a lot with her. My son did not want to go to school because he does not like being with new people. She earned his trust and heart. Now my son tells me every morning that he wants to go to school because he wants to be with Mrs. Chamberlain.
-Parent
Mrs. Chamberlain went above and beyond to get our son to write and get over his nerves about not being good enough. He now says, "My teacher said I did such a good job today!" She has built a his self-esteem up so much.
-Parent
I had two sons in her kindergarten class. She continues to go above and beyond for each child. From getting them packets when they are home sick and delivering it personally, to checking in on the kids to make sure they are ok. Both my kids wish she could be there teacher forever. She is beyond kind and doesn't make any child feel less important. She cares deeply about every student and really is every parents dream teacher. I love her!
-Parent
Mrs. Chamberlain has really helped my son progress in a short time. He used to hate school, but now loves it because of Mrs. Chamberlain. She is also very good at communicating quickly with parents.
-Parent
Mrs. Chamberlain has supported our son more than any teacher. She is always so friendly. She got our child to write and color. He used to hate it and now he loves it!! I've never heard her say one negative thing about anything, it's always, "We can work on this and get him there. He's learning." She always sets up children for success.
-Parent
She treats every student like their learning and their feelings are her priority. She makes them feel so special by either her hugs daily or just being able to have conversations with them about life. I have two children with learning disabilities and she has never made them feel less than. Each student is special each student matters to Mrs Chamberlain. She set him up for success in 1st grade. Even a year later, she still checks on my son.
-Parent
Mrs. Chamberlain treats each child with love, humility, joy, kindness, acceptance, and excitement. She is unlike any other teacher I have ever known. She meets each child where they are, and lifts them higher. She wants what is best for each child. Lucie is dedicated, she puts in an average of 60hrs a week for her class. With all her kids special needs, testing, IEP's and accommodating each lesson for each child. She works tirelessly for these kids, at great sacrifice.
– Kellie Simmons, Special Education Paraprofessional in Mrs. Chamberlain's classroom and former Alta View PTA President
Mrs. Chamberlain is an individual that goes up and beyond her scope of teaching. If a student/family is struggling, she is always the first to find ways to help these families in need. She has grocery shopped for families, provided clothes for students in need and she also delivers homework packets to their homes for students who have been absent. She is in constant communication with her parents, even on the weekends!. Lucie is also an amazing colleague. I am honored to work with her.
-Angela Patterson, Alta View's Speech Language Pathologist and Special Education Team Leader
Mrs. Chamberlain was the miracle hire of my career. It takes a very special person with a specific skillset and personality to be a Great Diagnostic Kindergarten Teacher. To find someone of Mrs. Chamberlain's caliber in the midst of Utah's teacher shortage is nothing short of a miracle. It has now been three years since Mrs. Chamberlain began teaching Diagnostic Kindergarten and Alta View and she has not only reached, but exceeded all expectations! Everyone who works with Mrs. Chamberlain loves her, from her students, to her parents, to her paraprofessionals and colleagues, to the school and district administrators. She has high expectations for all her students, yet she is able to teach with such expertise that students easily reach and exceed them. She inspires everyone around her. But that is not all, she is humble, avoids the spotlight, and does many wonderful and kind things that so often go completely unnoticed. Mrs. Lucie Chamberlain represents well the best of what we do here at Alta View Elementary!  
-Scott Jameson, Principal